Top 4 Digital Marketing Trends in 2022
COVID-19 certainly disrupted a marketer's playbook, creating new roadblocks and changing the existing rules. Even though marketing budgets shifted towards digital marketing with people spending more time online during the lockdown, consumer behaviours have changed dramatically. While we are still recovering from the impact of Covid, every marketer feels the need to adjust and adapt their strategy in order to step up their game in the New Normal. Here are 4 digital marketing trends you need to look out for in 2022.
The Rise of Programmatic Advertising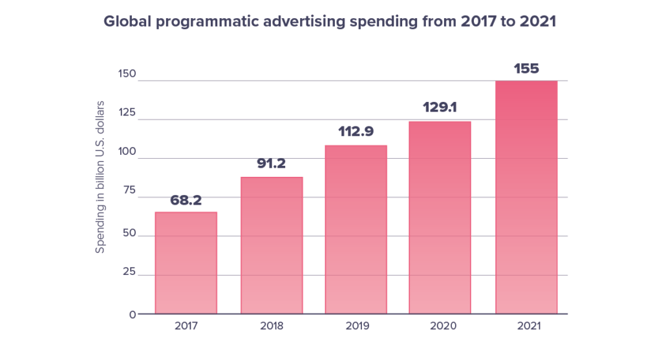 Source: Match2One
Businesses have been feeling the effects of the pandemic and companies have announced cutbacks one after another, including budget for advertising over the past 2 years. However, it appears that Programmatic Advertising received a lot of attention in 2020 and 2021 and will continue to grow in the next few years. You might ask what Programmatic Advertising is and why it will become the main concept for digital marketing in 2022. Let's find out.
What Is Programmatic Advertising?
Simply put, Programmatic Advertising is automated buying and selling of advertising slots in real time.
Cost for Programmatic Advertising is based on CPM - Cost Per Mille. According to Match2One, cost per CPM is around 0,5 - 2 USD. This cost is much cheaper than non-Programmatic Advertising buying methods.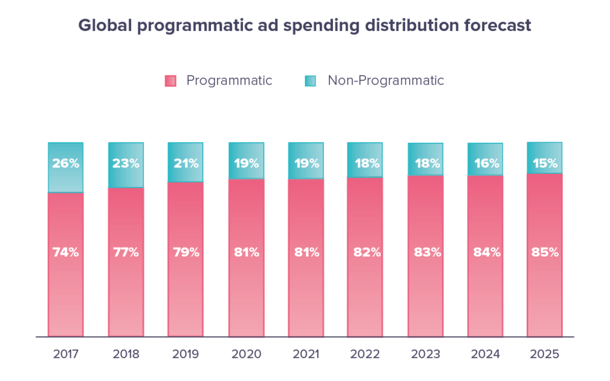 Source: Match2One
Today, Programmatic Advertising spending accounts for over 80% of all digital marketing budgets globally. This massive growth isn't slowing down anytime soon.
Want to know more about Programmatic Advertising and how to apply it for your business? Book a discovery meeting with the YOOSE Team now.
In the meantime, you can read more about 4 rising trends in Programmatic Advertising in 2022.
Top 4 Digital Marketing Trends in 2022
Contextual Marketing
When you want to promote your product, your ads are distributed on a relevant website, thus delivered to the right audience. That's contextual marketing. For example when you want to introduce a finance app, you will want your app to appear many times on a financial website.
Contextual Advertising can be used not only to sell products but also to help promote news articles and events, boost social media engagement and draw attention to your brand.
Mobile First
Users spend more time on their phones than ever before, especially after the pandemic. According to the report from data.ai, during lockdown, people developed a habit of staying connected online more than before. "COVID-19 has changed the behaviour of consumers forever" (data.ai). Let's take a look at the consumer behaviour reports after COVID-19:
4/2020: a normal user spends 4.5 hours on the phone.
Money spent on mobile applications increased by 25% compared to the same period in the previous year.
Despite shrinking marketing budgets, mobile ad placements bucked the trend — growing 70% in the first half of 2020.
Data has shown that consumer behaviours have changed drastically. So for 2022, prioritise mobile marketing when preparing for your next campaign.
Consider how people look at your ad on the phone and how they interact on a small screen. The way they see the ad on a phone is really different from seeing it on the big screen of a computer. So a mobile marketing strategy isn't just about resizing all the designs but it needs a proper approach to reach the right users on different mobile devices.
Brand Safety
Automated advertising campaigns may put your brand in danger from time to time. The damages can vary, from wrong placements to wasting advertising budgets and hurting your brand image.
​​YOOSE prioritises whitelisting apps and sites based on your brand reference and avoiding ads being shown on malicious apps and sites. We ensure that the ads are displayed on the most relevant publisher apps and sites and delivered to the right audience.
Videos Format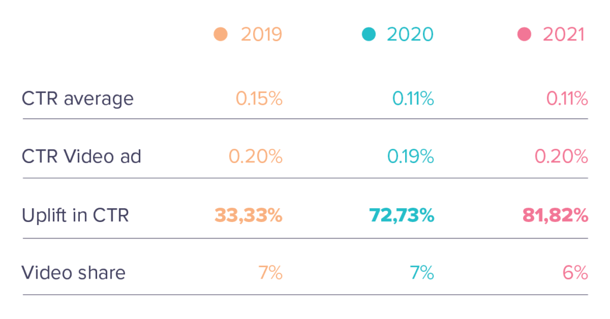 Source: Match2One
Video display banners are becoming more popular in 2022. This ad format can generate higher engagement - CTR than non-video display.
Video Ads are also a more creative and flexible option that allow advertisers to convey their brand story differently.
A survey conducted by Facebook IQ shows that after analysing thousands of successful advertisements, advertisers who present their offer in the first 3 seconds of the video are more likely to get engagement from consumers.
Those are the top 4 digital marketing trends in 2022. If you are planning to apply these 4 tactics for your next campaign, don't hesitate to book a meeting with one of our experts!