Location-based Advertising: Everything that every Marketing Manager needs to know
Location-based advertising promises to eliminate physical and informational barriers between consumers and marketplace offerings. Although this type of contextual advertising sounds convenient, some people may find it to be obtrusive. Findings imply that this spatial feature and the recipients' current activities (context) have an impact on how useful they find the advertisement. The results are examined in relation to the how, when, and where of mobile device advertising. This article will break down everything that you need to know below.
What is Location-based Advertising exactly?
Let's imagine this. Someone is browsing on his mobile device as it is almost lunchtime. He notices an advertisement for your restaurant less than 500 meters from his workplace, featuring the special set meal for today and a voucher for a free dessert. A contextually focused advertisement for your restaurant has been set up, and geo-fenced within a 1-kilometer range of the office building. He uses the "Call Now" button on the advertisement to make a direct call to reserve a table. That's Location-based Advertising.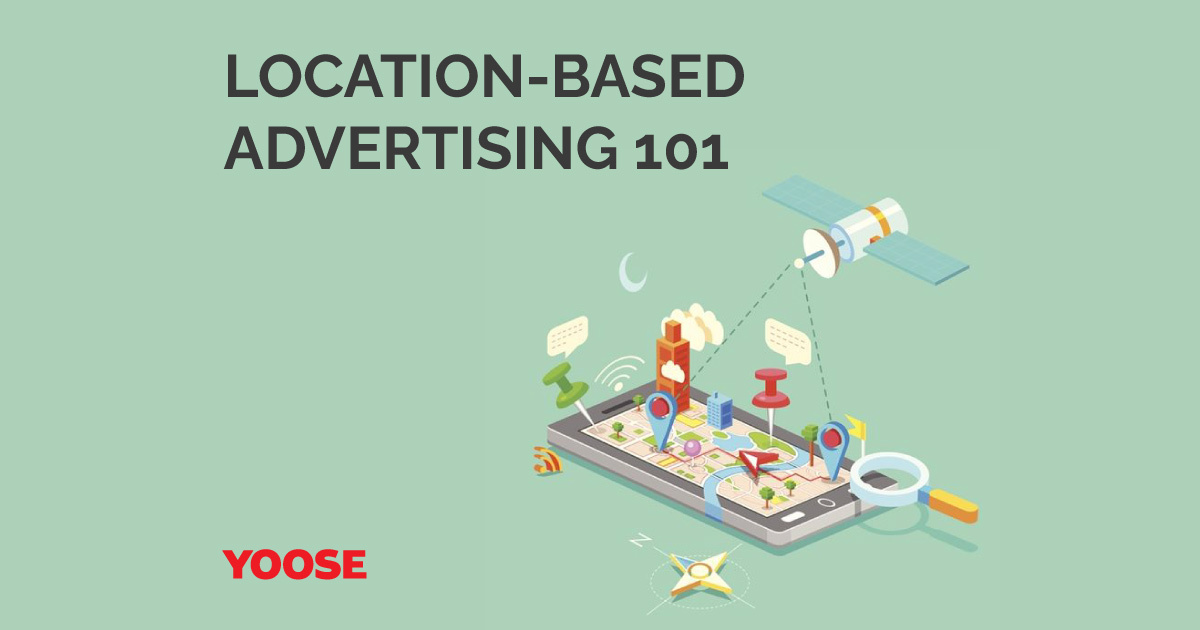 Basically, you can alter your marketing message based on where your target consumers are geographically using location-based advertising (LBA). You can customize messages for a variety of scenarios using location-based services (LBS). For instance, retail outlets, the climate, friends' proximity, and travel routes. Knowing where your customers are and how they typically act allows you to capitalize on their habits and motivate them with offers and communications that relate to their location and make sense to them. Further, you will be able to track all the data on the control panel visually with YOOSE. This will cut down on the synthesis and analysis processes.
It will be the most individualized type of mobile marketing. It only requires a proper application for you to get amazing outcomes. Personalized, timely, and highly targeted are what make LBA work well.
The role of AI in Location-based advertising
AI is transforming advertising and the environment. Companies are using AI to analyze location data and create more effective and efficient advertising campaigns. To improve their campaigns and increase their impact, advertisers seek to make the most of the enormous volumes of data at their disposal.
AI is becoming increasingly significant in marketing. Prior to AI's assistance, determining which efforts were successful and where to invest money was challenging.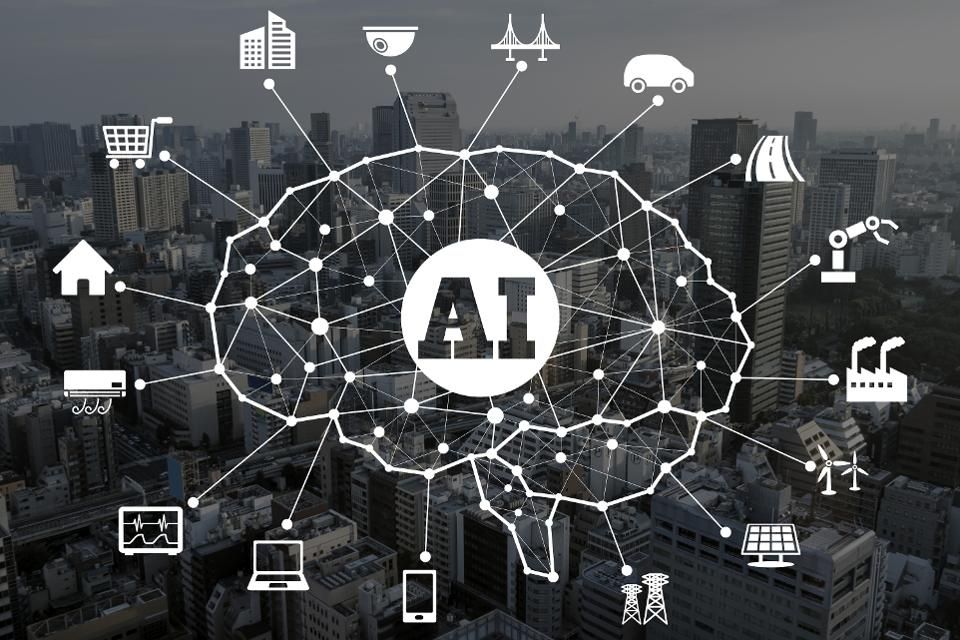 However, the advertising business as a whole is not simply being impacted by media spending. Planning, analytics, and creativity are impacted by AI. Thus, cognitive advertising powered by AI has the potential to completely change how a business approaches marketing and advertising. In order to improve ROI, advertisers may make smarter decisions with their money by merging AI, machine learning, and big data.
Some case studies you might find interesting
Adidas - Products launching in Vietnam
Adidas AG, known simply as adidas since 1949, is a German multinational company that was established and has its headquarters in Herzogenaurach, Bavaria. It creates and produces footwear, apparel, and accessories. After Nike, it is the second-largest sportswear producer in the world and the biggest in Europe. Although Adidas had a presence in Vietnam by 1993, the Adidas Vietnam Company, which is wholly owned by Adidas International B (Amsterdam, Netherlands), was not formally created until 2009.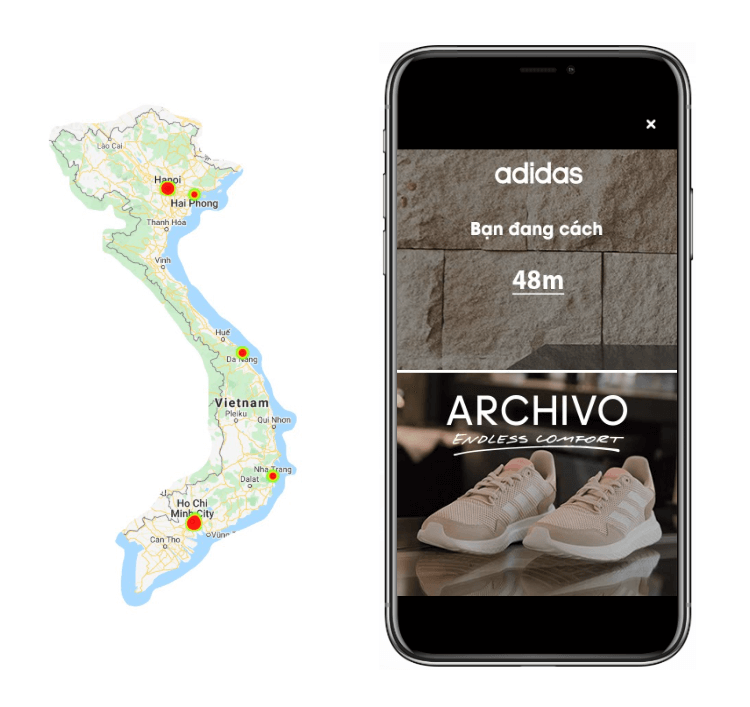 In October 2019, Adidas decided to release a new product in Vietnam. The objective was For each of the 17 brick-and-mortar stores spread across 6 cities in Vietnam, the goal was to use a hyperlocal display ad strategy that included new sportswear products. Each location has a 200-meter-radius targeted geofence. The primary KPI is footfall attribution to drive in-store traffic. Clicks and CTR% are only secondarily important.
After 2 months, YOOSE, a hyperlocal and location-based marketing agency, helped this campaign deliver 2 million impressions, target 17 stores, achieve a 1.22% CTR, and gain more than 1000 tracked footfalls.
You can read the full case study here
KFC - Campaign "1H"
KFC entered the Romanian market in 1997, and today it owns the second-largest chain there with 40 locations, all of which are staffed by more than 1,200 workers. KFC Romania, operated by the US Food Network, had sales of 37.5 million euros and a profit of 3.5 million euros in 2010.
The goal of this campaign was to measure footfall to the outlets, Clicks to the landing page, and impressions. Three traditional promotion/foot traffic activities by KFC Romania in Bucharest. There are two more modest promotions for KFC's Coffee Corner, each lasting one month. The longer, two-month CEVA menu campaign features a special price promotion.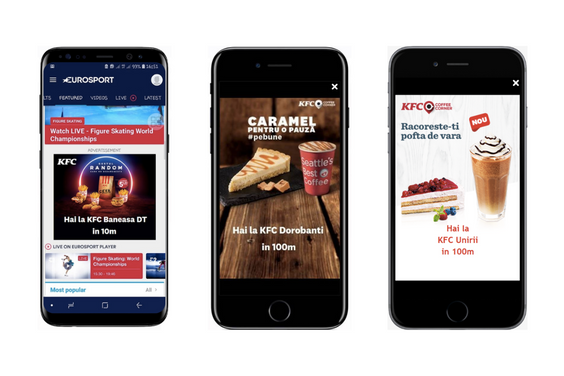 We, YOOSE, gave them a solution that gained 606,500 impressions, and 643 footfall measurements, and achieved a 1.30% average performance CTR as a result.
You can read the full case study here
OPPO - F11 & F11 Pro Campaign
Guangdong, a Chinese producer of consumer electronics with its headquarters in Dongguan, is Oppo Mobile Telecommunications Corp., Ltd., also known as OPPO. The company's main product categories are electronic goods such as power banks, audio equipment, smartphones, and smart devices. In March 2019, OPPO released 2 of its models which are F11 and F11 Pro. ​​The Oppo F Series is a line of selfie-focused phones powered by MediaTek or Qualcomm that bears the slogan "Selfie Expert."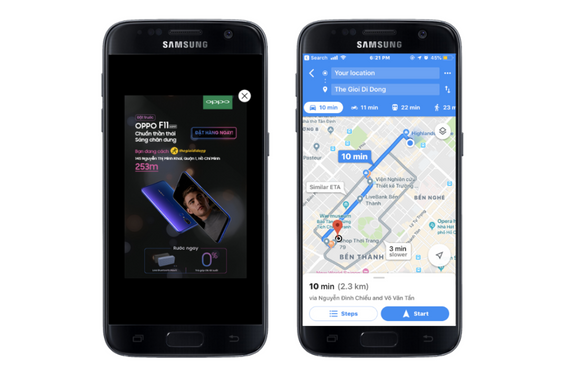 YOOSE drove an overall CTR of 1.75% across the 2000+ stores, and with our stringent footfall measurement criteria, measured 3000+ influenced visits (Footfall). According to Thegioididong, OPPO F11 preorders have also broken previous records and clinched 62,000 pre-orders which OPPO 11 Pro accounts for 90% of the sales.
You can read the full case study here
What are the privacy concerns with location-based advertising?
Nearly six-in-ten U.S. adults say they do not think it is possible to go through daily life without having data collected about them by companies or the government, according to a survey by the Pew Research Center. More than half of Americans believe their online activities are being tracked and monitored by companies and the government.
​​Many times, data-driven goods and services promise to save customers time and money or even improve their health and well-being. However, a sizable portion of American adults does not believe they gain anything from this system of extensive data collection. Approximately 81% of the populace believes that the risks they could encounter as a result of data collection by businesses outweigh the advantages, and 66% believe the same about government data collection. At the same time, the majority of Americans (79%) or the government (64%) say they are concerned about how their data is used.
From a privacy standpoint, the fact that many customers are unaware they are being tracked is what worries me the most about location-based marketing. Businesses frequently tuck the notification that they are following you within lengthy terms of service contracts that are unlikely to be read, even though this method of marketing is legal.
The right to privacy in general depends on information privacy. It has to do with a person's capacity to decide for themselves when, how, and why others handle their personal information. To ensure human dignity, safety, and self-determination, privacy protection is essential.
How does location-based advertising differ from traditional advertising?
With the aid of location-based advertising, or I could say marketing, businesses can specifically target customers with online or offline messaging based on their precise geographic location. Marketing teams can reach customers based on criteria such as proximity to a store, local events, and more by using location data.
Location-based marketing has been proven successful throughout the entire customer lifecycle, from engagement and retention to discovery and purchase. When done right, location-based marketing enables businesses to target particular customer segments with offers while enhancing the customer experience in a society that places an increasing emphasis on instant gratification. For instance, location-based marketing could inform a potential customer that a product they've been eyeing is available in a nearby store, enabling them to buy it right away.
On the other hand, Out-of-home advertising (OOH) refers to forms of advertising that are displayed outside of a consumer's home. Billboards, bus shelters, benches, and everything in between are included in this tradition. You are most likely viewing an OOH ad if you see one outside of your home (and it's not on your mobile device!).
Out-of-home advertising is a fantastic alternative to the world of online digital advertising. It can have drawbacks, for instance, the viewability of digital ads isn't always perfect due to the rise of adblockers. It is simple to understand why digital advertising isn't always the best option when you consider this and the enormous amount of information that consumers are exposed to online. OOH has a positive impact in addition to this as a supplement to digital advertising. According to one study, after seeing an OOH advertisement, consumers are 48% more likely to interact with a digital advertisement.
What is Location-based Marketing bringing best to us?
#1 Greater Understanding of Customers
The need of attending to the unique needs of clients has never been higher than in this era of accelerating digitization. Businesses and marketing teams can use location-based marketing to gather the data they need to better understand their target market. Customers who choose to share their personal information give marketers a wealth of important information. Each user experience can be personalized and customized with the use of this data.
#2 A higher ranking on search engines
To reach local audiences, location-based marketing employs a wide range of technologies. This includes making the most of a company's internet presence to increase its discoverability. A firm must set up business pages in order to be found on GPS devices and in web searches. For instance, a Google My Business profile needs to be claimed and completed in order to appear as a suggested business on Google Maps.
Using location-based solutions, like Google My Business, helps a company's online presence become more localized, which benefits search engine ranking. The position of a company website on the search results page is referred to as its search engine ranking.
The ranking is important since most customers prefer the links and companies that are on the top page. Using a location-based marketing approach can help your website rank higher in search results. A company can rank higher on search engines more easily with the assistance of local interaction, such as reviews and ratings.
#3 An increase in local brand awareness
Locals are more likely to know a business' name the more location-based technologies it employs. The power of brand recognition alone may transform a company. Traditionally, logos, slogans, and jingles have been used to increase brand awareness. Instead, special deals and promotions are used in location-based marketing to create the same level of brand recognition.
A company will benefit from having significant brand recognition in the neighborhood if
A rise in pedestrian traffic

More positive recommendations from nearby clients

Increasing numbers of internet ratings and reviews
Businesses frequently combine location-based marketing with a social media strategy to maximize brand recognition. By doing this, they may use their preferred social media platforms to reach even more neighborhood customers.
You can read more about The 7 things business owners need to know about digital marketing.
#4 Increasing Business Levels
Location-based technologies have a variety of special features that might be quite helpful to a business. For instance, weather marketing is a tactic that aids companies in focusing on sluggish periods during inclement weather. Offering a special deal, service, or discount to clients who come on gloomy or unpleasant days is a common way to do this.
A company makes better use of its operating expenses by focusing on sluggish periods. Targeting ideal clients via location-based marketing is possible even where there is typically little foot traffic or in-person commerce.
Location-based marketing can likewise increase bustle on this level by increasing web traffic and revenues. A digital presence will be able to draw more online traffic as it grows in size.
#5 Affordable Marketing
Businesses benefit from location-based marketing because it doesn't necessitate a large marketing budget. There are many fantastic resources available that are affordable and simple for businesses to employ. For instance, our mobile research platform at 1Q gives users access to geo-targeting features at no extra cost.
Particularly when commercials are involved, marketing may become quite expensive very quickly. Local audiences can be reached by firms at a far cheaper cost thanks to location-based marketing. The marketing efforts of the company can thus be scaled up more easily as a result of this.
Does YOOSE Offer a Location-Based Advertising Solution?
YOOSE supports overcoming the difficulty of scalability and precision localization. To more precisely locate users and devices for location-based service applications, mobile positioning, and location providers use vast amounts of Wi-Fi, cellular, and other sensor and technology data. These providers are assisted by YOOSE's cutting-edge geospatial solutions to manage, map, visualize, and interact with billions of data points on real-time, interactive geo charts, enhancing the accuracy of precision location for location-based services applications.
Don't hesitate to book a 1:1 consultation with YOOSE!